Wharf Cartage – Shipping Container Hire and Transport in Victoria
Acostar Logistics provides the smoothest continuous shipping container hire and transport Victoria businesses from all industries, private organisations, government entities, and individuals have come to rely on. Running 24 hours a day, 7 days a week, every 2-hour intervals, our 85.5-tonne-rated road train can move all your containers from terminals to anywhere in West Melbourne, North Melbourne, and the rest of Victoria.
With over 15 years in the logistics industry, we have built a strong reputation for delivering cargo in the fastest and safest way possible. Plus, with our direct access to terminals, we can provide you with real-time information so you will have the latest shipment updates along with the most accurate delivery times. So, no matter the time of day or night, you can rely on us to get your cargo to where they need to be exactly when you want them.
With Acostar Logistics, you can leverage the exceptionally seamless wharf cartage with the round-the-clock shipping container hire and transport Victorian businesses trust. As you are reading this, our team is either picking up shipments at the Melbourne docks, driving on roads to transport containers, or unloading cargo at their destinations. We do this all day and night while keeping all our customers updated on the spot with detailed and precise information.
Trailer Live Load/Unload or Drop Trailer With A Sideloader Truck in Victoria
When you work with Acostar Logistics, you can leverage our fast and reliable sideloader truck in Victoria for either trailer live load/unload or drop trailer container pickup, transport, and delivery. With our large in-house fleet of sideloaders, trucks, and trailers, our company can service over 50,000 TEU annually. Having the capability and capacity to move large volumes of cargo on a daily basis, we have become the go-to container transport services partner for local and global businesses and organisations.
Should you choose the option of live loading and unloading, our team has vast experience with this method of container pickup and delivery. Whether it is FCL or LCL, you can rely on our truck drivers to be there to wait for your cargo to be loaded and deliver it on time every single time. You can even take advantage of our container sideloader to get your shipment to where they need to be in the quickest and the most efficient manner. A multitude of customers trust us with live loading and unloading of all their cargo.
If you want to go with the drop trailer option for your shipments, we can provide fast round-the-clock pickup and delivery of all your cargo. Either from a warehouse or storage facility to the docks in Melbourne or from a terminal to locations in West Melbourne, North Melbourne, and the rest of Victoria, our team can get it there with zero hassle. By leveraging our highly efficient truck sideloader, we can deliver your containers even quicker. This is why we have the sideloader truck Victorian businesses and organisations have come to rely on.
Massive Fleet of Top-of-the-line Equipment
With us, you can take full advantage of our massive in-house fleet of high-end trucks, loaders, and trailers to move a wide range of different types of cargo from Melbourne docks to different locations in West Melbourne, North Melbourne, and the rest of Victoria. We can deliver non-perishable cargo like manufactured goods in either dry freight or ventilated containers. Our company can also transport perishable cargo like food, chilled and frozen goods, agricultural products, and more in refrigerated containers.
We can also move oversized cargo like building materials, vehicles, machinery, and construction equipment on drop-deck and straight-deck flatbeds. Our company will also transport raw materials like coal and granular substances like grains in bulk containers. Having the capability and capacity to deliver a vast array of cargo, Acostar Logistics is your go-to wharf cartage and interstate container transport services partner.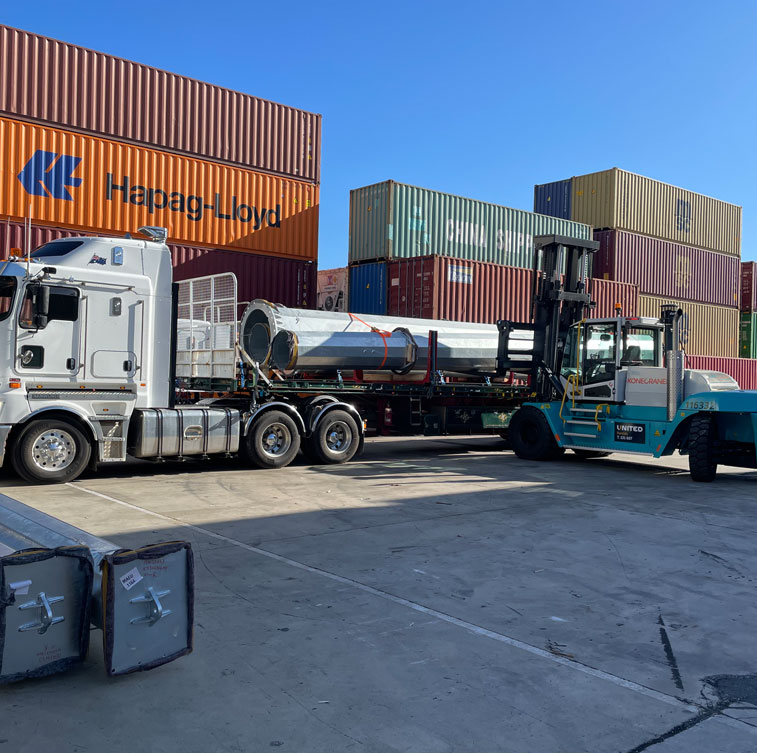 Large Team of Cargo-handling Experts
When you decide to leverage our services, you will have a large team of fully qualified, highly skilled, and vastly experienced cargo-handling experts who will take care of all your shipments. All our team members follow the strictest quality and safety standards. So, from the moment they are handed over to us at the docks in Melbourne until they arrive at their intended destinations, you can have peace of mind knowing that specialists with extensive knowledge and expertise are handling your cargo properly.
Every single team member that we have is dedicated to providing you with the highest level of service excellence and customer satisfaction. From our drivers and operators to loaders and packers to our management and support staff, you can be assured of getting quality service that is second to none with a clear and effective communication, a highly personalised approach, and the ability to accommodate you with flexible working hours.
Let our team here at Acostar Logistics provide you with fast and reliable wharf cartage with the shipping container hire and transport Victorian businesses trust. Get in touch with us so we can show you how we will not just meet all your requirements but actually exceed all your expectations.